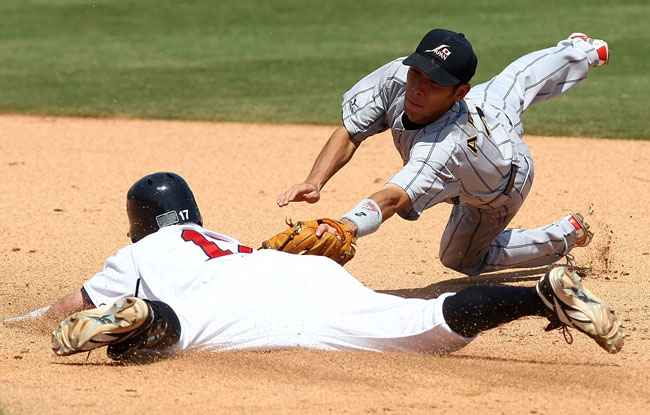 It's that time again! Time for this blog to take off in popularity! Time for the first minor league post of the season!
Tonight, all four levels of the Astros farm system will begin play. Just as a reminder, the four main clubs are Round Rock (AAA), Corpus Christi (AA), Lancaster (High A), and Lexington (Low A). The Lancaster JetHawks are the new addition, after the Astros ended their agreement with Salem, who was subsequently bought by the Red Sox. Rosters for these teams were finalized and uploaded to the web this afternoon, so we have a good idea of who's playing where. Here are a couple of my notes on how the system is shaping up.
The youngest everyday players at each level, based on their season age, are:

Jay Austin

, CF, Lexington (18);

Ricardo Bonfante

, SS, Lexington (20);

Jack Shuck

, OF, Lancaster (21);

Collin DeLome

, OF, Corpus Christi (22);

Chris Johnson

, 3B, Round Rock (24). It's pretty good group of players, with the first teenage everyday player in the system since

Koby Clemens

and

Mitch Einertson

. Einertson, by the way, joins

Jonathan Fixler

and

Josh Flores

as 23-year old regulars in Corpus.
The Lexington rotation will feature three pitchers younger than 20 from the 2008 draft class.

Brad Dydalewicz

(19),

Jordan Lyles

(18), and

Ross Seaton

(19) will all pitch for the Legends. It will be very interesting to see how they are used and how many innings they compile.
Jason Castro will be splitting time at Lancaster with two other catchers in

Koby Clemens

and 23-year old

Pedro Gonzalez

. Other possible time shares will be Einertson-DeLome in the outfield in Corpus,

Phil Disher

-

Kody Hinze

at first base and Ronald Ramirez-Bonfante at shortstop in Lexington.
I'm very intrigued to see how Josh Flores will do this season. He missed all last season with a knee injury but was an impressive prospect to that point. He's a speedy outfielder who plays good defense. Hopefully, he'll have a strong bounce-back year.
I'm not going to comment on the Astros play in that first series, because it made me so angry. Seriously...swing at hanging sliders guys! It's okay! You don't have to be nice to the pitchers!
Ugh...
I'd also just like to say that my heart goes out the the family and teammates of Nick Adenheart. He was way too young to go like he did.